There is something magical about Falafels, once you try it, you will never stop eating it. They are tasty, vegetarian, filling, and full of protein.
I come from a place where people eat falafel a lot; they eat it for breakfast, dinner or anytime in the day and never get bored of it. It's that food everyone loves and agrees that it's amazingly delicious.
Falafel is a deep fried ball made of chickpeas, onions, parsley and garlic. If you've never made your own falafel at home, then you're going to learn an easy way to make your own.
Falafel is best served immediately after frying, in a sandwich with tahini sauce, pickles, and any vegetables you like. I added fresh slices of tomatoes to my sandwich.
Falafel recipe
Ingredients:
2 cups dry chickpeas, soaked in water for 12 hours
1 medium onion
2 cloves garlic
1/2 cup chopped parsley
2 tsp. ground cumin
2 tsp. ground coriander
1 tsp. salt
A pinch of baking soda
1 hot green pepper (optional)
Vegetable oil for frying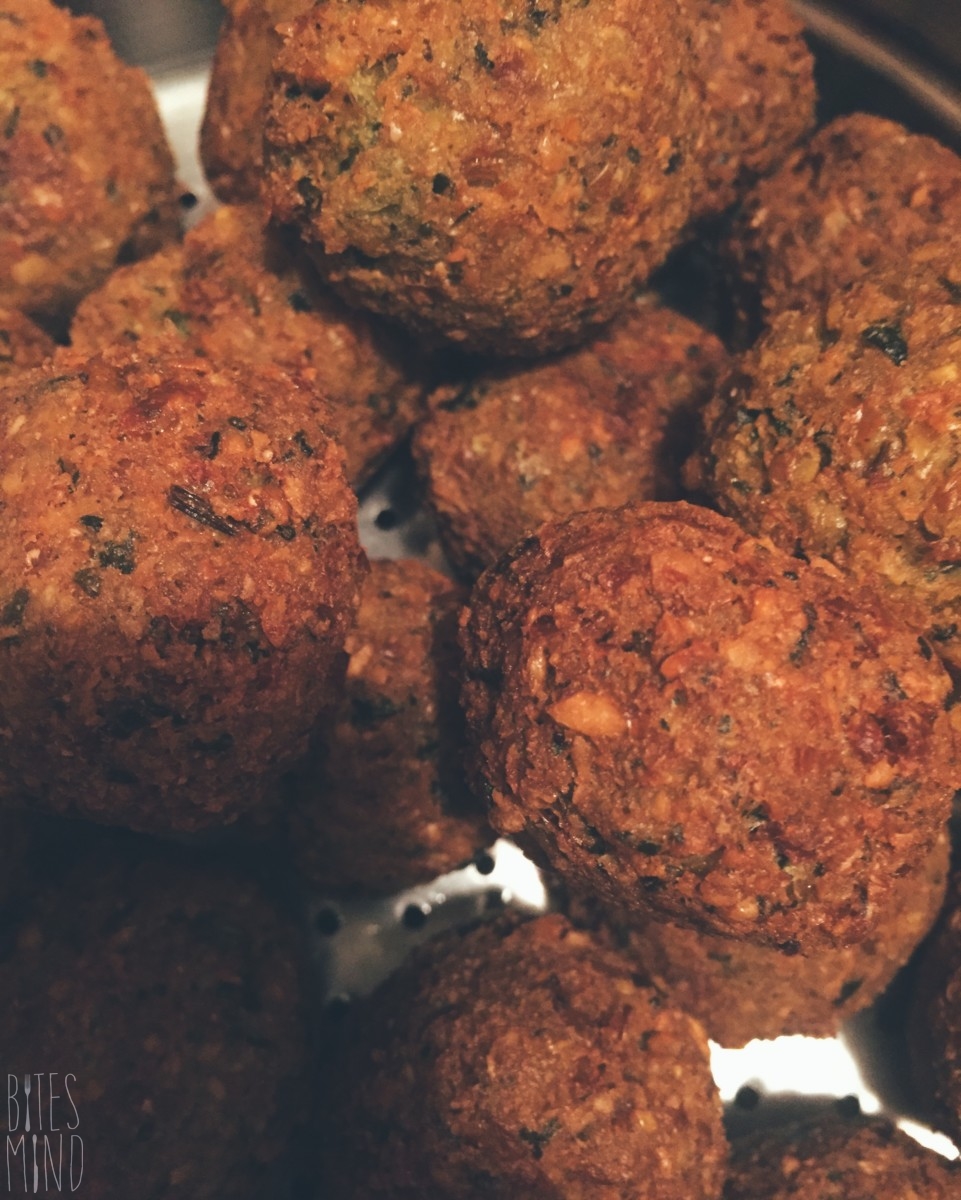 Directions:
Soak chickpeas in water for at least 12 hours. Rinse and drain chickpeas
Put the chickpeas, onions , chopped parsley , garlic and green pepper in a food processor. Process until well combined. The mixture should be finely grounded but not smooth like a paste.
Add salt, a pinch of baking soda (or on top of tsp), cumin and coriander to the mixture.  Stir well until combined.
Shape in small balls or patties.
In a frying pan, add oil ( best to be deep fried), heat it until quite hot. Fry falafel for couple on minutes or until it becomes golden brown .
Serve immediately
Tahini sauce
Ingredients:
2 tsp. Tahini (Sesame paste)
Juice of half a lemon
Finely chopped parsley
¼ cup water
1 clove garlic, mashed
1/2 tsp. salt
1 tsp. olive oil
Directions
Add water, whisk until very smooth.
In a small bowl, add tahini, lemon juice. Whisk well .
Add olive oil, garlic, salt, chopped parsley
Add Tahini sauce to your Falafel sandwich and enjoy.