Fattoush is a Middle Eastern bread salad made from toasted or fried pieces of pita bread combined with mixed greens and other vegetables. It's one of the most commonly eaten salads in the Middle East.
Fattoush includes vegetables and herbs according to season and taste. The vegetables are cut into relatively large pieces compared to tabbouleh which requires ingredients to be finely chopped. Sumac is usually used to give Fattoush its sour taste.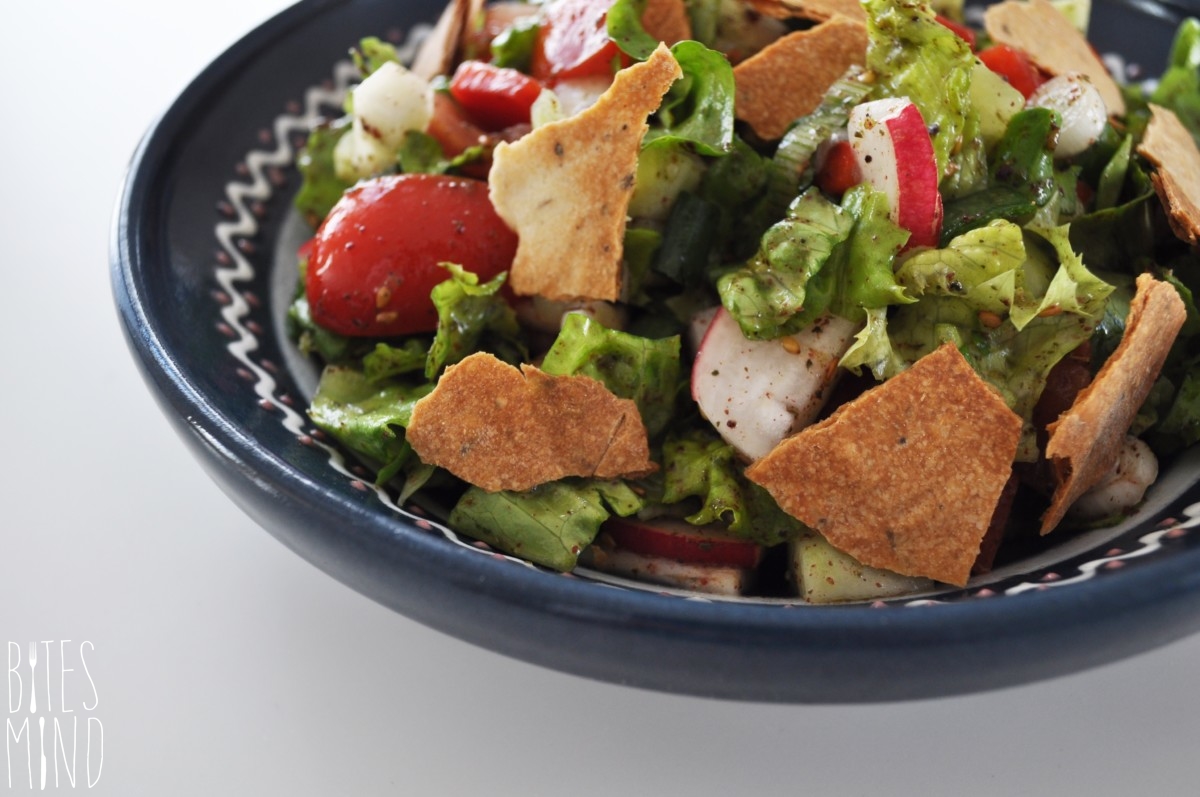 If you don't do a lot of Middle Eastern cooking, there is one ingredient in this salad that you might not have in your pantry: sumac. 
Sumac is a tangy, lemony spice and It is an essential ingredient in Middle Eastern cooking. Try using it in salads or to season grilled meat and fish. If you enjoy hummus, try topping it with a sprinkling of sumac.It's delicious!
 

2 small pita breads cut into cubes

 

1 head of romaine lettuce

 

1 tomato

 

1 cucumber

 

5 small radishes

 

½ red pepper

 

½ green pepper

 

fresh mint ( small bunch, chopped)
For the dressing:
 

4 tablespoons olive oil 

 

2 tablespoons vinegar

 

juice of 1 lemon

 

1 teaspoon sumac

 

1 teaspoon salt
You can either toast pita bread or fry it. I've baked mine.
Put the pita bread pieces on a baking tray and bake for 5-8 minutes until golden brown.
Cut the lettuce and all the vegetables into small, even-sized pieces and mix them all together.
Add the mint leaves and mix them through the salad.
Mix the olive oil, salt, vinegar, sumac and lemon juice together and pour the dressing over the salad.
Add the toasted bread and sprinkle sumac on top before serving.