Helbeh a traditional Palestinian cake and one of my childhood favorites. It's a semolina cake flavored with exotic and aromatic fenugreek seeds soaked in syrup. Helbeh is the Arabic word for fenugreek seeds, which give the cake that distinctive strong nutty taste.
If you like and intense sweetness, exotic spices and rose water, you are likely to enjoy helbeh. It is amazing with a cup of strong black Arabic coffee.
Fenugreek has a sweet yet bitter, nutty flavor with a lovely maple aroma.
It's widely used in Middle Eastern, Yemeni and Indian cuisine, where it turns up in dishes like soups, bread or even sweets.
We are using Nature Land Indian organic fenugreek seeds.
This cake is really easy to make, but there are a few important things you need to consider; The fenugreek seeds must be soaked and boiled in water in order to lose their bitterness. Always make Helbeh at least a day before you serve; the flavors really need time to come together properly. The syrup should be cooled before pouring it over the hot cake and allowed to soak in completely.
      

500g coarse semolina

      

70g all purpose flour

      

3 tsp fenugreek seeds

      

100ml olive oil

      

100ml sunflower oil

      

7g dried yeast

      

1/2 tsp baking powder

      

1/2 tsp salt

      

10g whole pine nuts to garnish
Syrup:
      

2 cups caster sugar

      

1 cup water

      

1 tablespoon lemon juice

     1

  tablespoon rose water
     

Put the fenugreek seeds and 3 cups of water in a saucepan and bring to a boil, then simmer on a low heat for about 25 minutes, until the seeds are tender.

     

Mix the semolina, and flour in a large bowl. Add the oils and mix well.

     

Drain the fenugreek seeds, reserve the cooking water for the next step, and add them to the semolina mix.

     

Add the yeast, baking powder and salt.

     

Pour 200ml of the reserved fenugreek water to the mix gradually

     

Knead the dough until it's completely smooth.

     

Grease a 21cm round cake tin with butter and line it with parchment paper.

     

Using a sharp knife score the surface of the cake with parallel lines followed by another set of lines creating a diamond shape.

     

Place one pine nut in the center of each piece.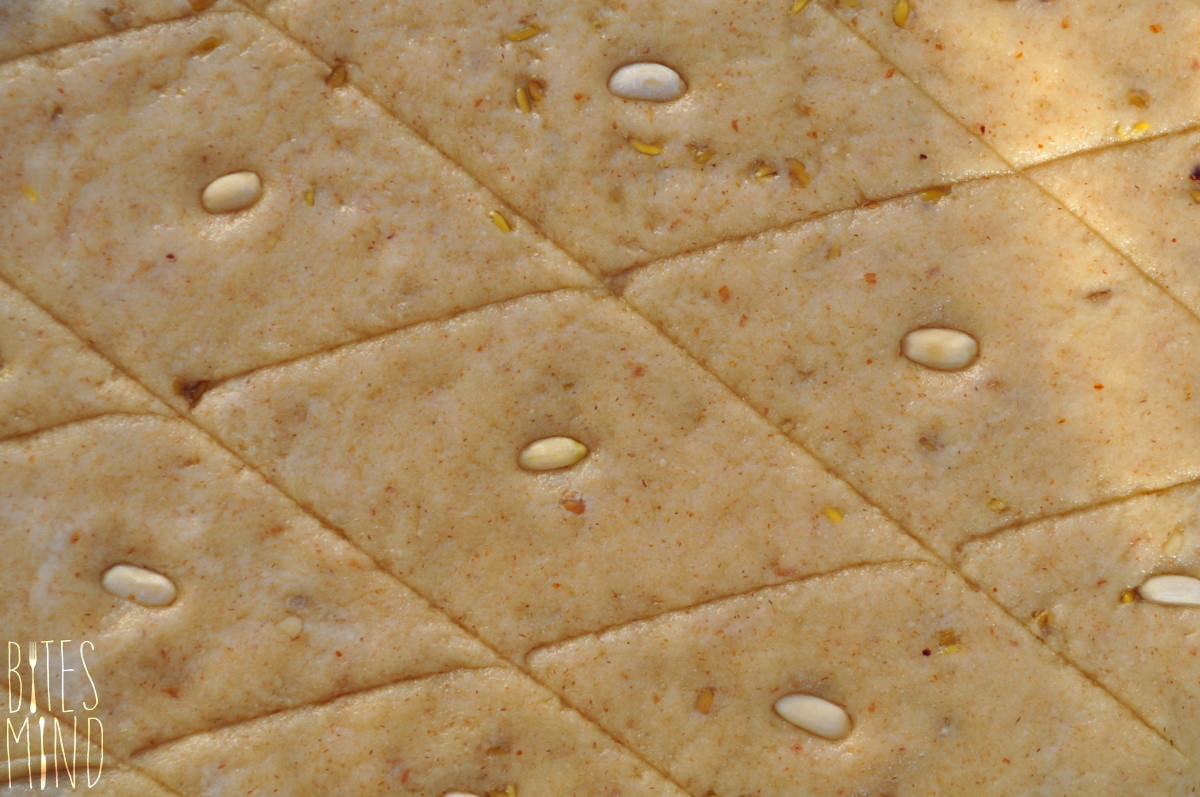 To prepare the syrup, put the sugar and water in a saucepan on medium high heat and mix well.

     

Once it boils, add the lemon juice and simmer for 8 minutes.

Take the syrup off the heat, set aside and allow it to cool, then add one tablespoon of rose water.

     

Preheat the oven to 220°C. Allow the oven to heat completely.

     

Bake the cake for about 40 minutes until it is golden brown and a skewer inserted in it comes out clean.

  Once the cake is baked, remove it from the oven and immediately pour the syrup all over it, make sure you use the whole amount of the syrup. The cake will look like it's drowning in the syrup, but don't worry, the cake will absorb all the syrup.
   . Set aside until the cake is completely cool. Best to serve next day.