Halloumi cheese is a white, firm, salty, and a bit rubbery cheese widely found throughout the Middle East and Mediterranean. Halloumi cheese is made from a mixture of goat's and sheep's milk, and sometimes  cow's milk.The cheese is often used in cooking and can be fried until brown without melting, due to its high melting point. This makes it an excellent cheese for frying or grilling or fried and served with vegetables, or as an ingredient in salads. Halloumi is generally served during the warmer months with watermelon, due to its refreshing qualities.
In the middle east Halloumi cheese is a tradtional component of breakfast, eaten either fresh or fried, along with other dishes such as hummus, falafel, and khubz (pita bread). Halloumi cheese is very similar to Nablusi cheese, named after Nablus, Palestine, its city of origin.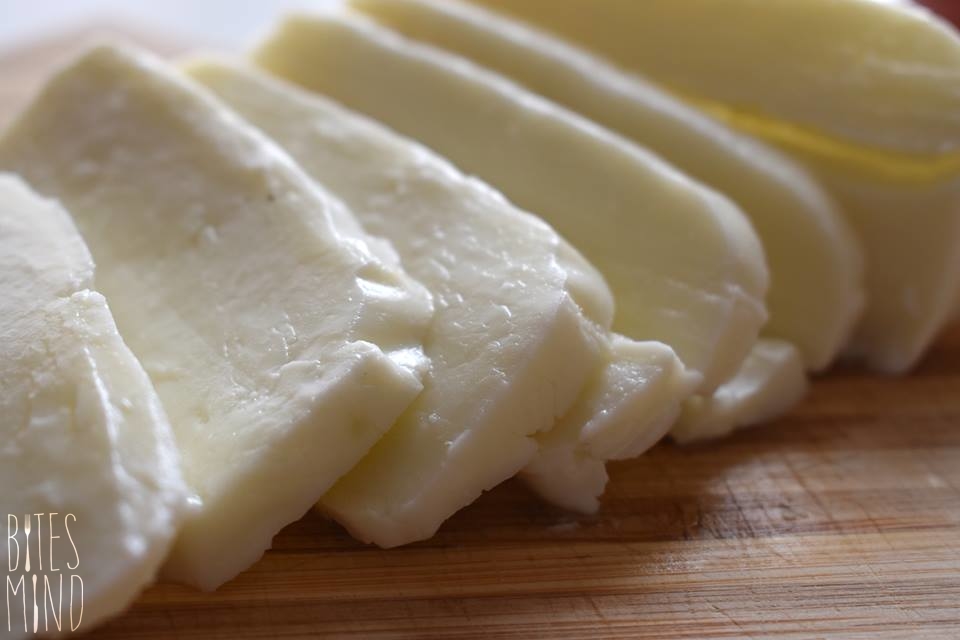 How to Cook Halloumi Cheese
Try Halloumi grilled, pan-fried or thinly sliced. Add it to salads, or serve it with watermelon, as is traditional in the middle east. 
Frying halloumi creates a unique treat. Crunchy from the outside, chewy and salty from the inside. 
250g package Halloumi cheese, drained and cut into 1/2 cm slices
1 tablespoon olive oil for frying. ( You can fry it without olive oil, but olive oil gives it a richer taste).
Preheat a nonstick frying pan over high heat.
Dry the halloumi cheese slices. with a paper towel. thoroughly. 
Add the olive oil 
Sear the cheese in the hot pan until each slice develops a deep brown crust, about 1 minute on the first side and 1 to 2 minutes on the other. The cheese should soften as it cooks.
Place the fried cheese on a plate and garnish with fresh mint,  tomatoes, and olive oil.
Serve it hot, drizzled with olive oil for more of a pure taste,  with pita bread and fruits. You can add it to sandwiches or eat it just like that. It's very delicious! 
Extra virgin Palestinian olive oil produced from rain-fed and hand-picked olives that have been pressed on the day of picking.
Taste one of the world's finest cold pressed extra virgin olive oil harvested from villages near the town of Nablus and Tulkarem on the West Bank.
Order by clicking on the image.