Think of the bread of the Middle East and you think of pita, but really pita bread is served at just about every meal in the Middle East. I love eating pita bread with absolutely everything because it is light and doesn't overpower any dish.
Pita is a genius bread—eat it as a wrap or as a sandwich filled with falafel or shawarma , or use to dip in your hummus or muttabal. Or even toast it to make chips to top your fattoush salad with.
How to get puffy homemade pita bread
The key to great, puffy pita bread is the right water-to-flour ratio and leaving the dough to rest enough in a warm place, the dough needs to be soft, smooth but hold its shape.
A very hot oven is a must, make sure you use a preheated baking tray or a baking stone so the moisture in the dough evaporates, pushing the top crust up and creating an air bubble in the middle of the baking dough—what is known as the pocket.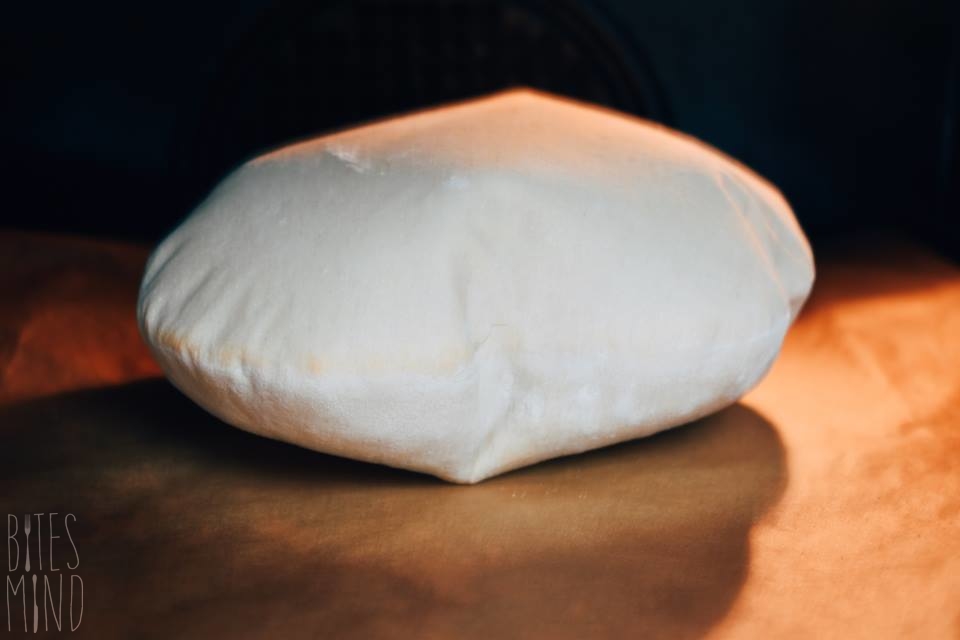 Ingredients : ( Makes 8 pita breads)
550g  all- purpose flour (plus extra for dusting)

8g active dry yeast

20g sugar

15g salt

335ml room-temperature warm water
Pour the water into a big bowl. Whisk in the yeast until dissolved, and then add the flour, sugar, and salt. Using your hands, mix the ingredients until they come together to make a shaggy-looking dough without any dry bits at the bottom of the bowl.

Dust your working surface with flour and knead the dough for 8-10 minutes until the dough has a nice round shape.

Lightly flour a bowl, place the dough in the bowl, and lightly flour the dough. Cover the bowl with plastic wrap and set it aside at room temperature and leave in a warm place to rise for 1 hour, or until doubled in size.

Cut the dough into 8 equal pieces. Roll each piece of dough into a ball ( Dust the work surface with extra flour, place the 8 balls of dough on it and cover with a towel to rise again for 30 minutes.

Roll out each ball of dough into a circle about  0.5 cm thick. Leave to rest for 20 minutes.

Preheat the oven to 200°C. Preheat a baking stone or a baking tray. Put the dough circles on the baking stone or baking tray or pizza stone (you may need to cook them in batches) and bake for 5-8 minutes, or until a light colour. Allow to cool and cover with a towel so the pita breads do not lose too much moisture. Eat pita bread fresh or place the pita in a plastic bag or in an airtight container so it stays soft.