Hummus & Friends is the kind of restaurant that makes you want to come back to it again and again, where you will never get bored of eating the food they serve, because it's a place where you feel really comfortable to eat and enjoy a meal with family and friends.
The restaurant is located in the heart of Berlin, on Oranienburger Straße next to the new synagogue in a very lively and beautiful neighborhood in Berlin. Hummus & Friends is the only restaurant in Berlin that serves Hummus as a main dish. I promise you, you won't leave this restaurant hungry.
As we entered the restaurant we came across an olive tree and a golden inscription on the wall says "Make Hummus Not Walls ". What a good start of the day with such an inscription, to be honest, this sentence made us so excited about this restaurant.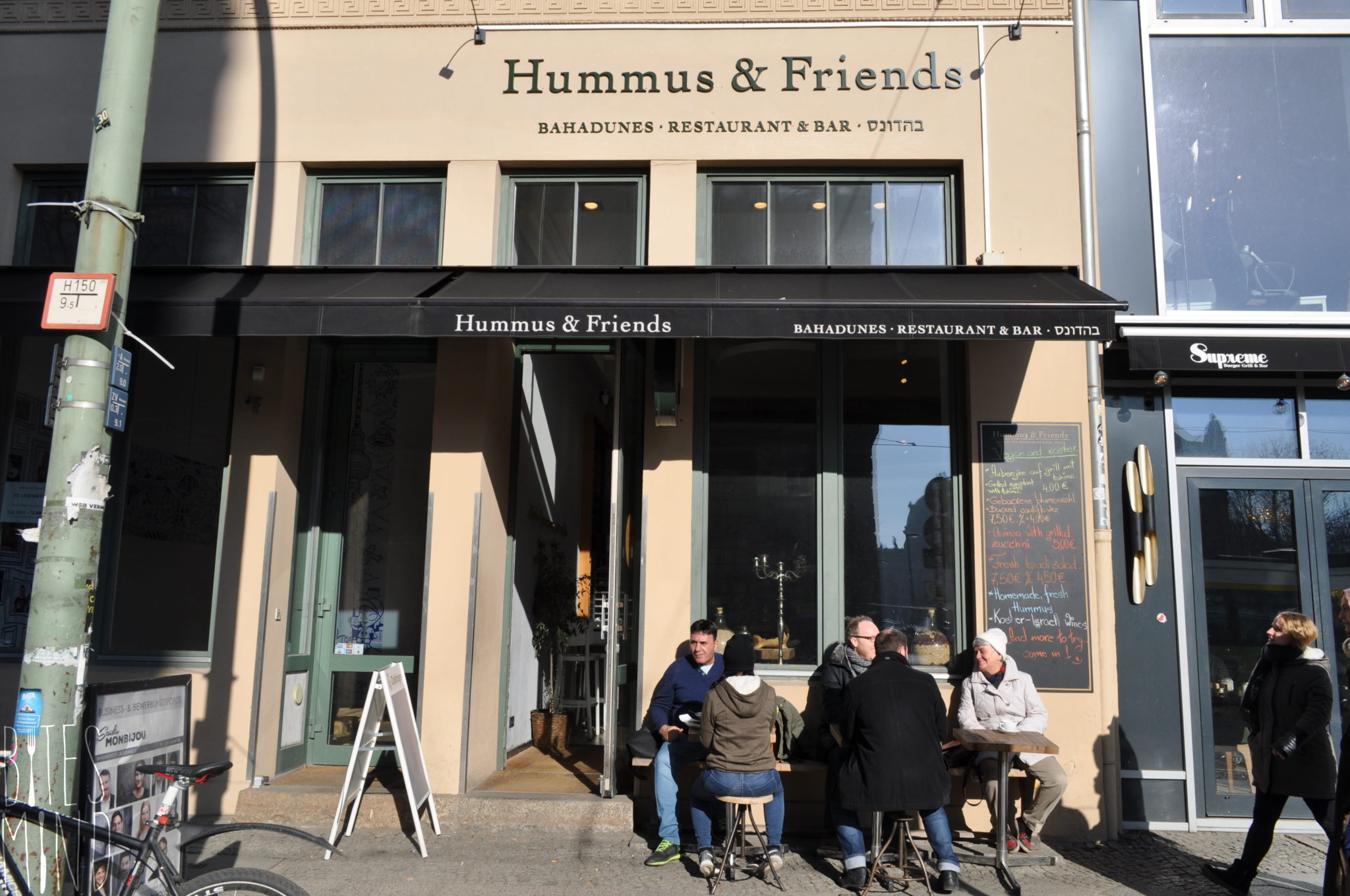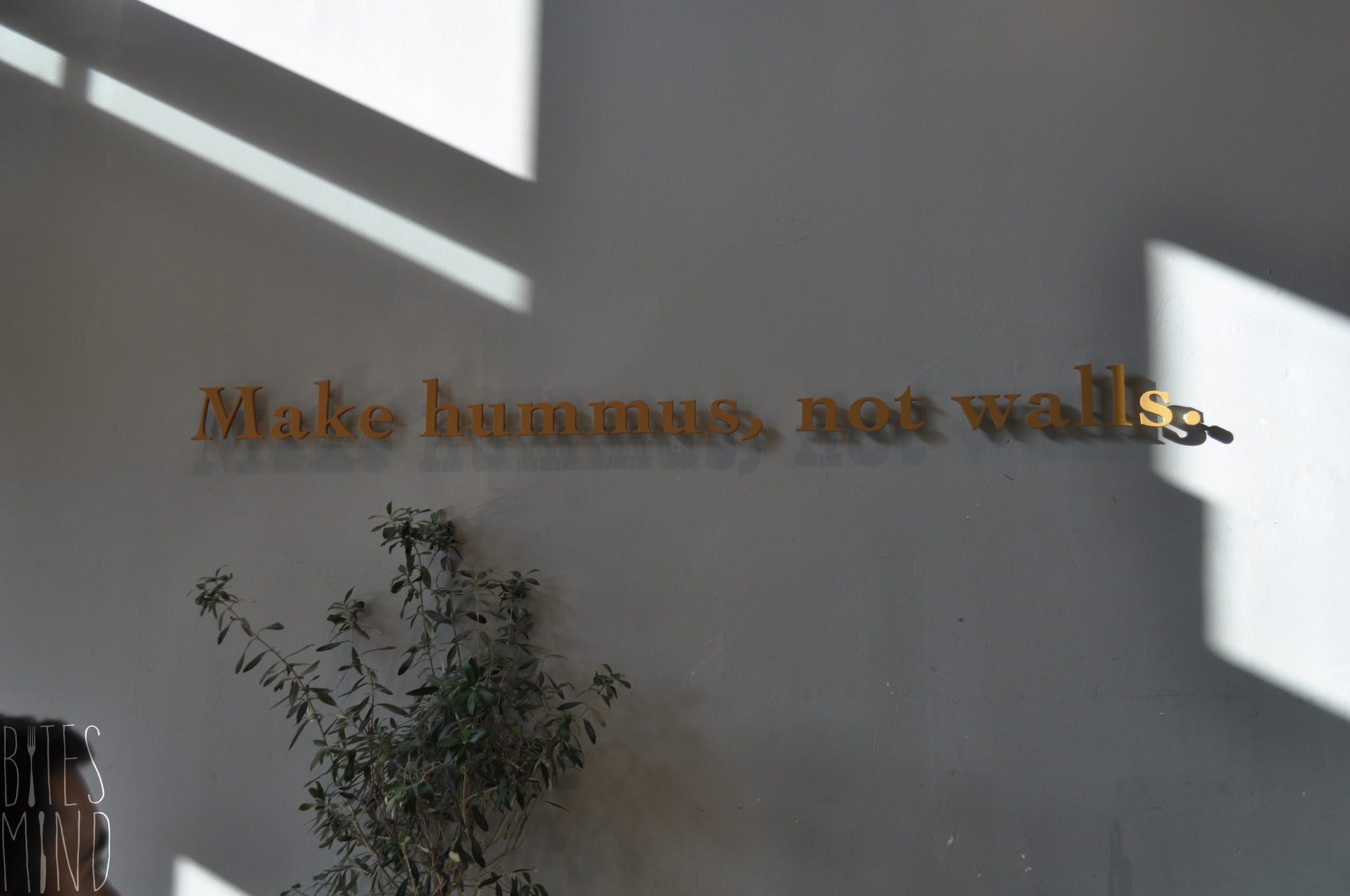 The restaurant is rather narrow but this highlights its charm, the wooden vintage-look tables, a set of very interesting old photos from the holy land hanging on the walls. The big bar where they prepare both food and drinks offers a good view on the staff while they are preparing your food.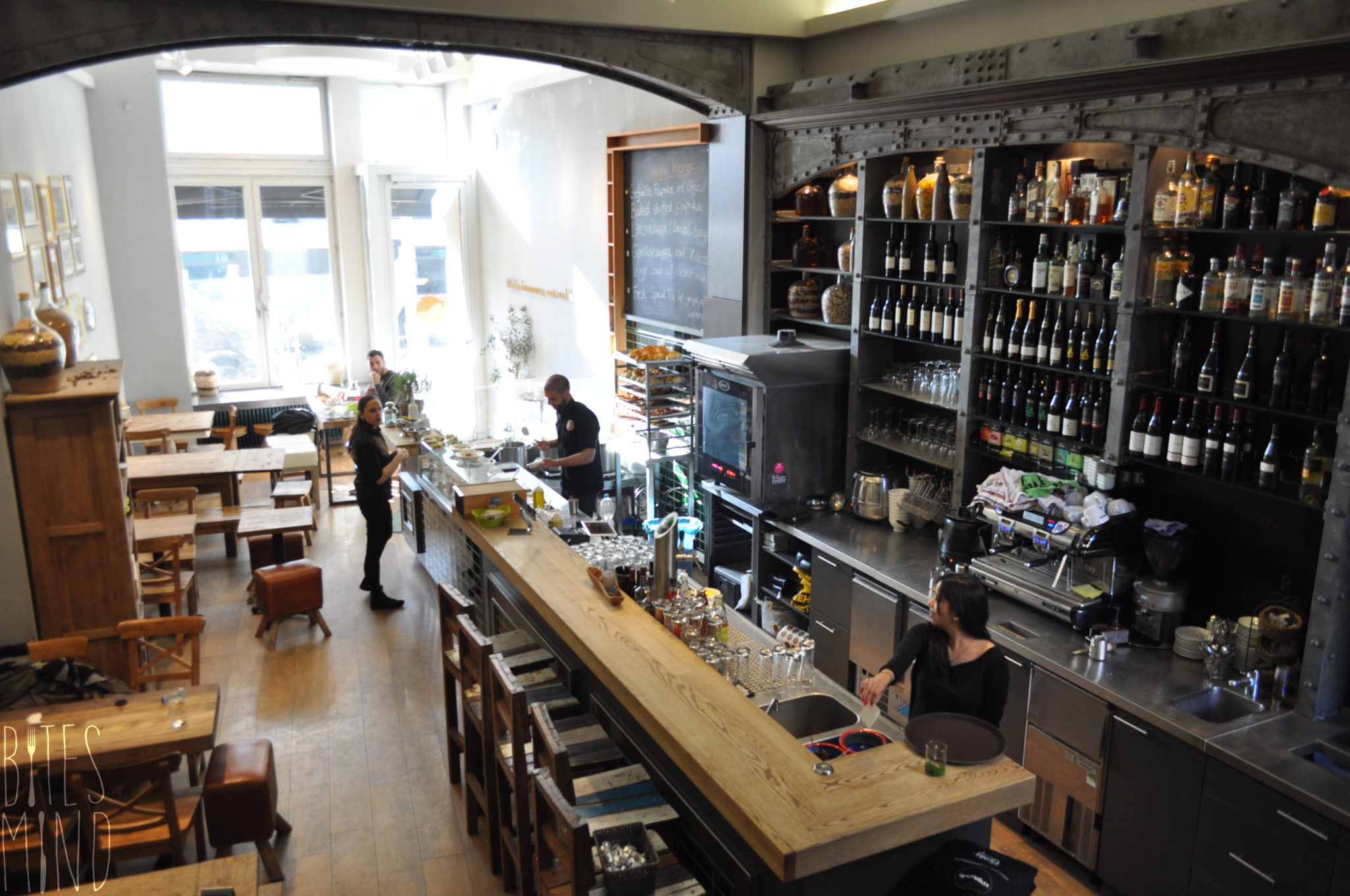 We were welcomed by Malka, a charming, beautiful young lady .We started to chat about Hummus & Friends and what makes Hummus & friends one of its kind in Berlin.
It is simple. Hummus & Friends uses the best ingredients out there, they only use chickpeas from the Galilee, an ideal climate for these tasty chickpeas. They get their fluffy pita bread, tahini, pickles and olives from the holy land and it is all of course kosher.
Malka recommended us their specialty, Hummus & Friends special, a dish that consists of Hummus, hard-boiled egg, mashed fava beans, onions, parsley, tahini and green pepper sauce on top. It is heaven on a plate! She also gave us a tip of how to eat hummus the best way possible: with bare hands. You take a small V-shaped piece of pita bread between the thumb, the index and ring finger and then snap on the hummus… here you go!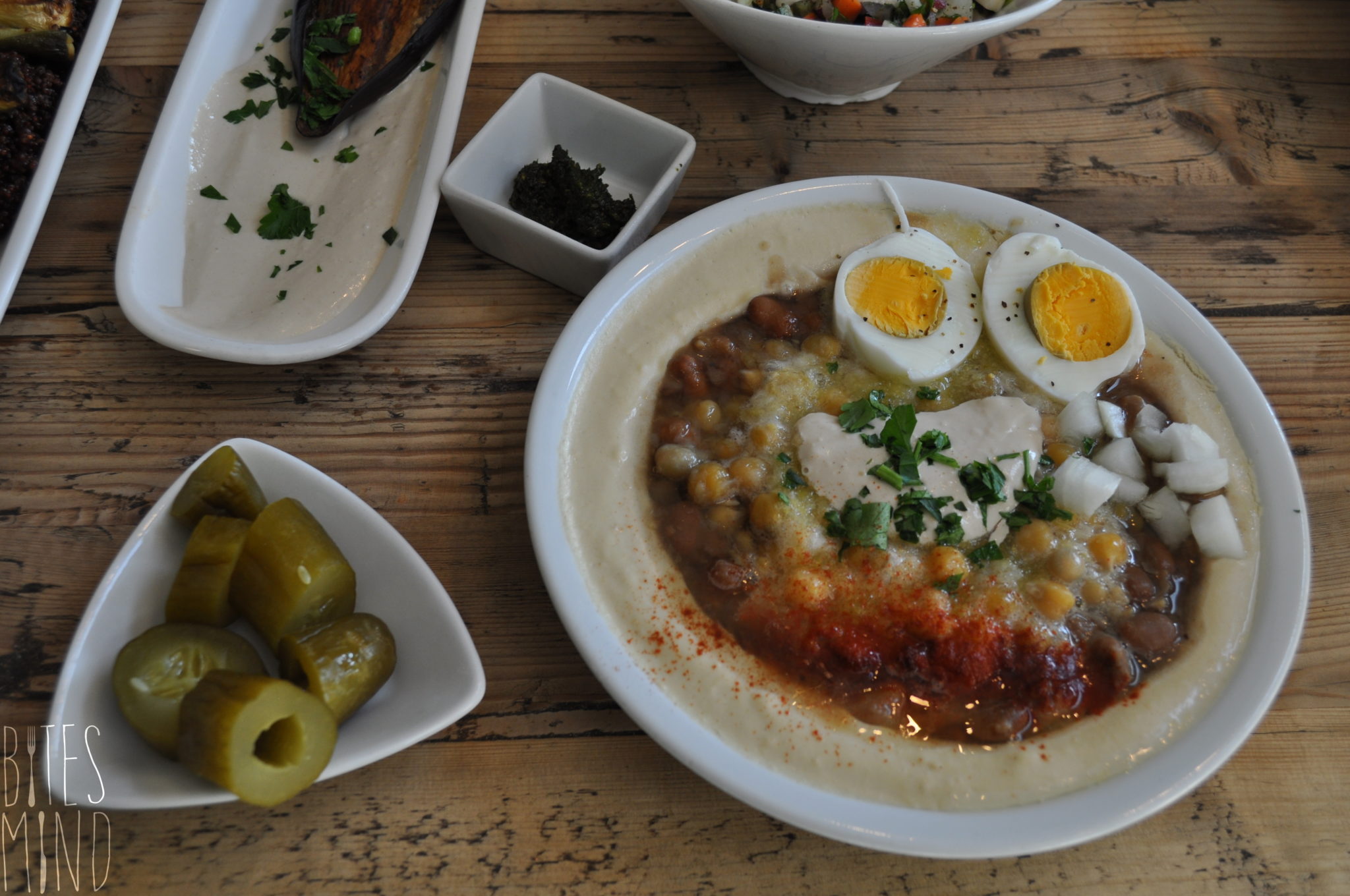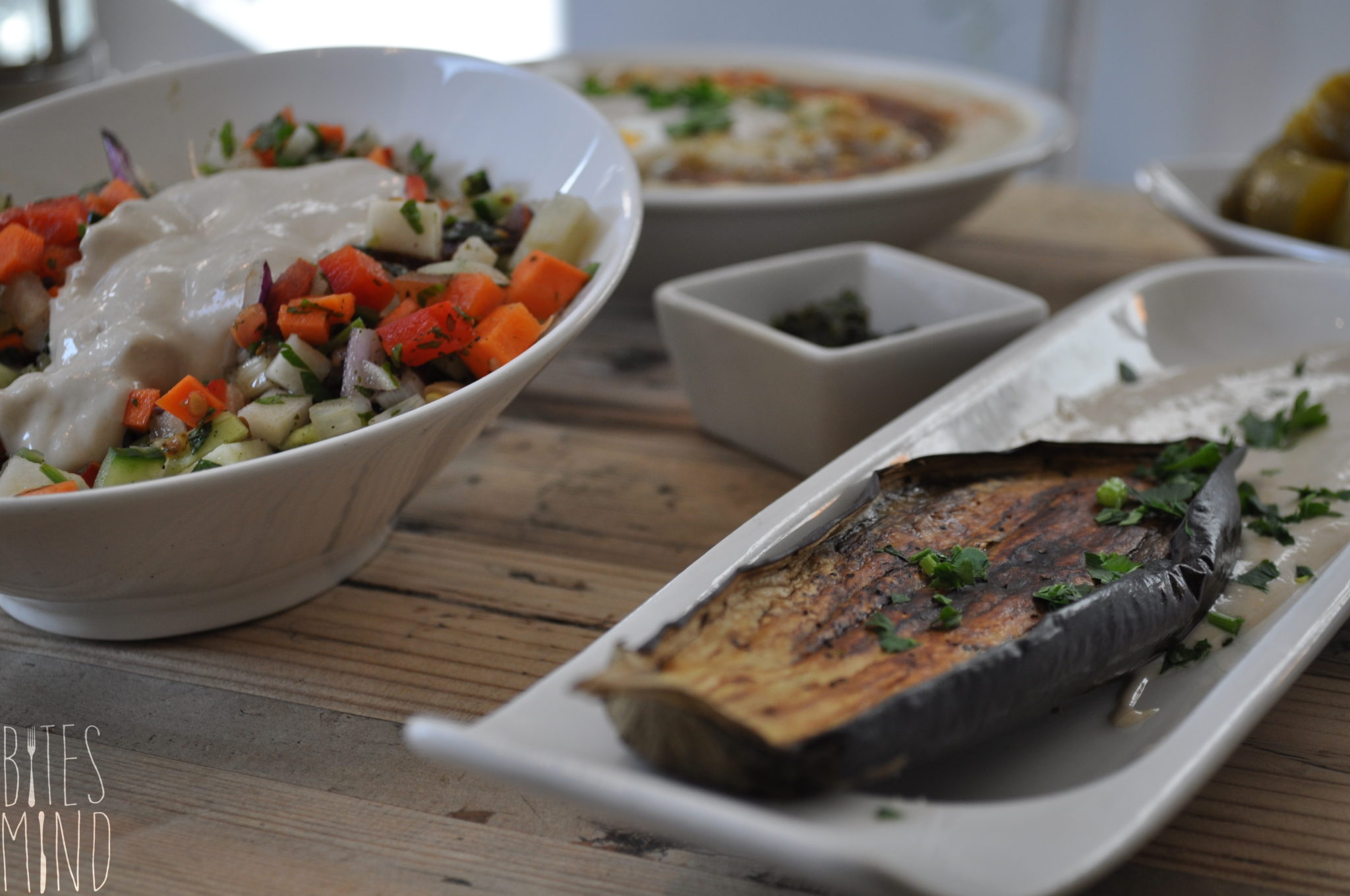 The gorgeously creamy hummus at Hummus & Friends is prepared from peeled chickpeas, which get washed several times during the preparation. Make sure you take a bit of everything on the plate with every bite. What a combination, that heavenly smooth hummus with fava beans and tahini sauce and freshly cut onions in one bite. All these rich flavors in your mouth will take you straight to the holy land where all these flavors come from.
Along with the main dish we had the oven-baked cauliflower, another Hummus & Friends specialty. It comes wrapped in white paper, what a joy to unwrap that freshly baked cauliflower by yourself . I can eat this cauliflower every day! I highly recommend this for you to try. We had the quinoa –zucchini dish, cooked quinoa with honey and cranberries with baked zucchini on top. We also had a salad made of fresh and crunchy veggies with a strong pleasant taste of freshly chopped coriander inside. All these dishes come along with freshly baked pita bread, Israeli pickled cucumbers and garlic-coriander chili paste.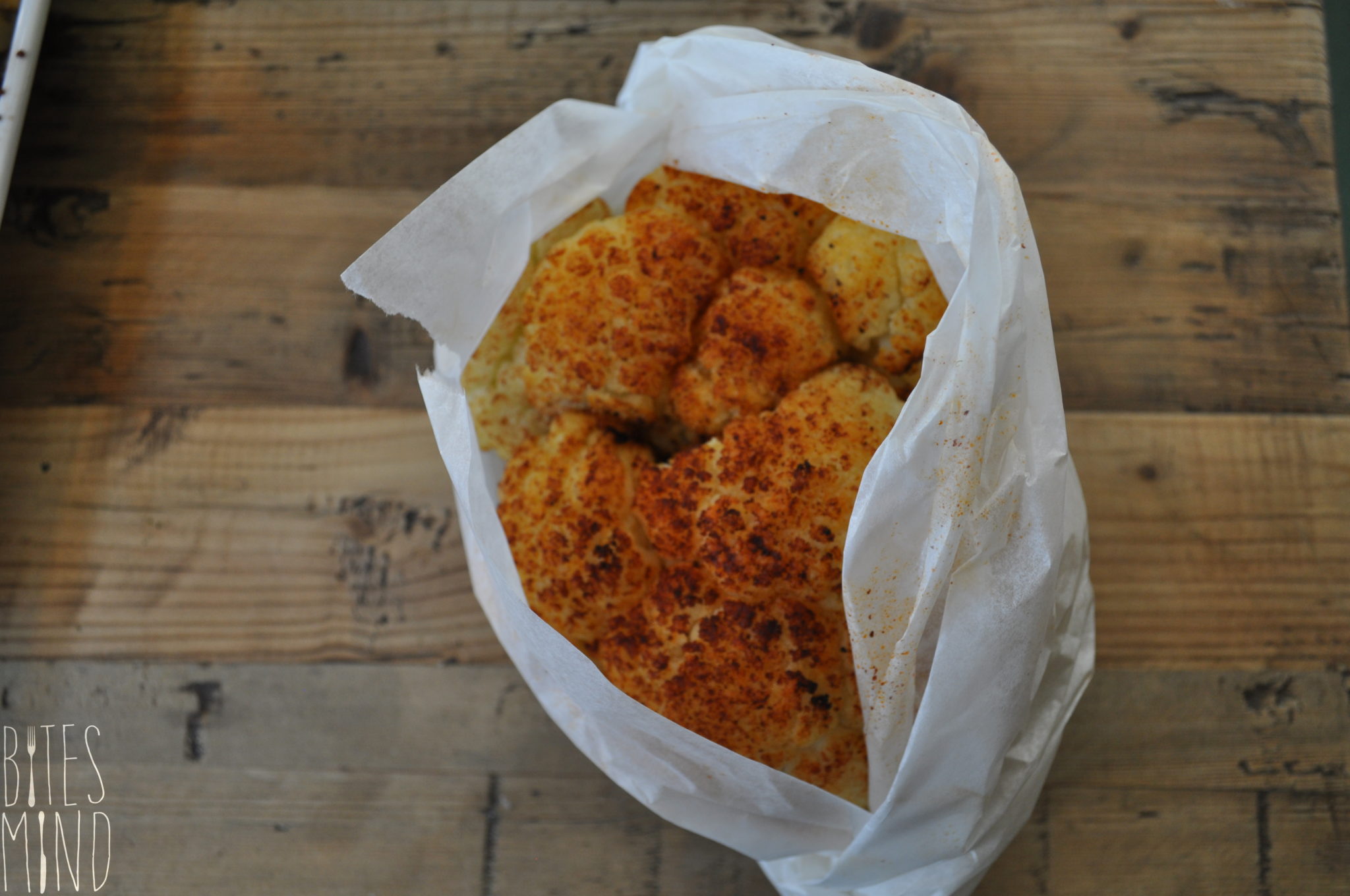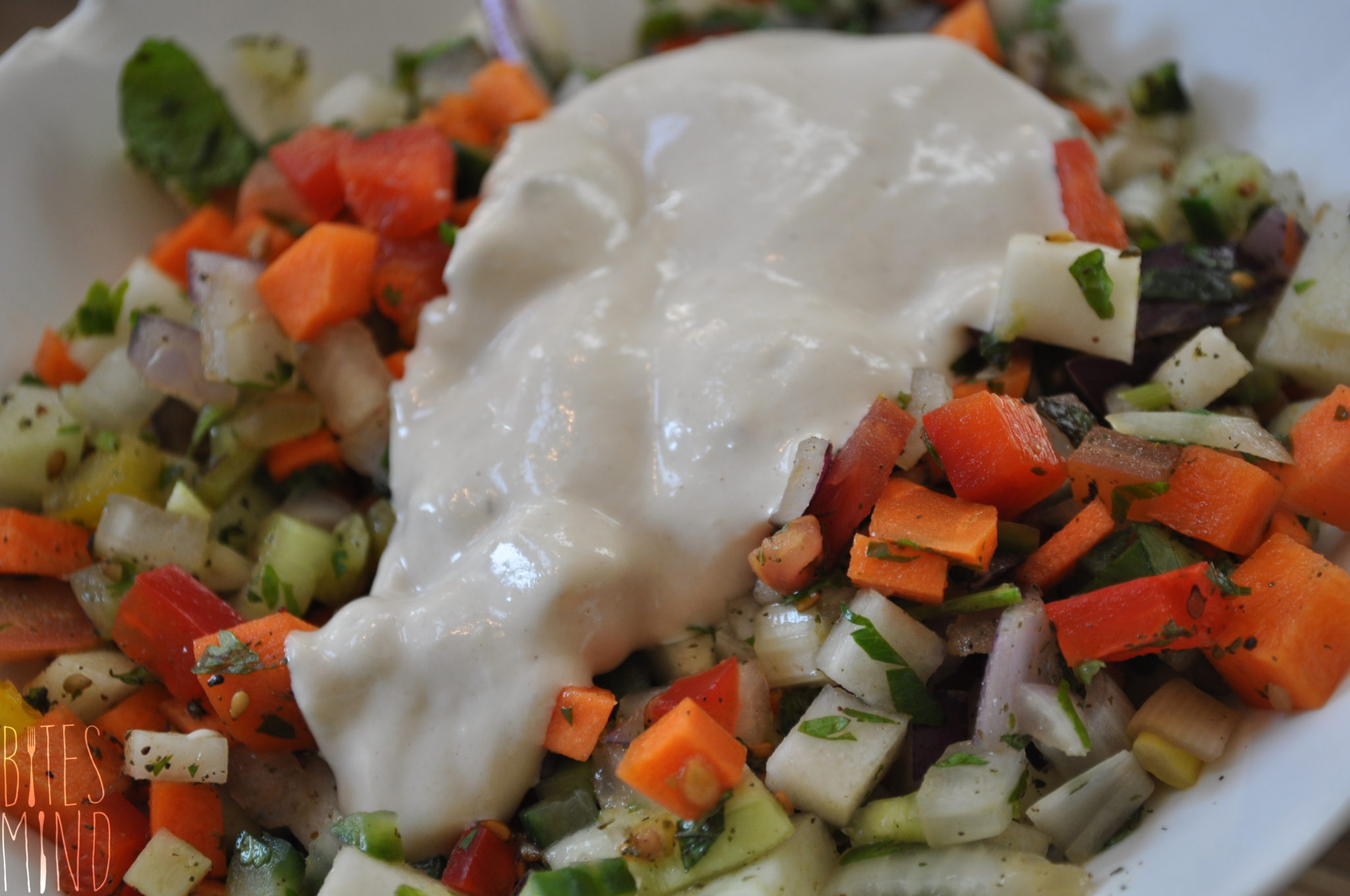 Hummus & Friends also offers a wide range of kosher wines from Israel, make sure to ask them to advise you for a matching kosher wine.
Hummus & Friends is where the good things happen, high quality vegetarian, vegan and kosher prepared dishes at reasonable prices , and with helpful and professional staff at your service.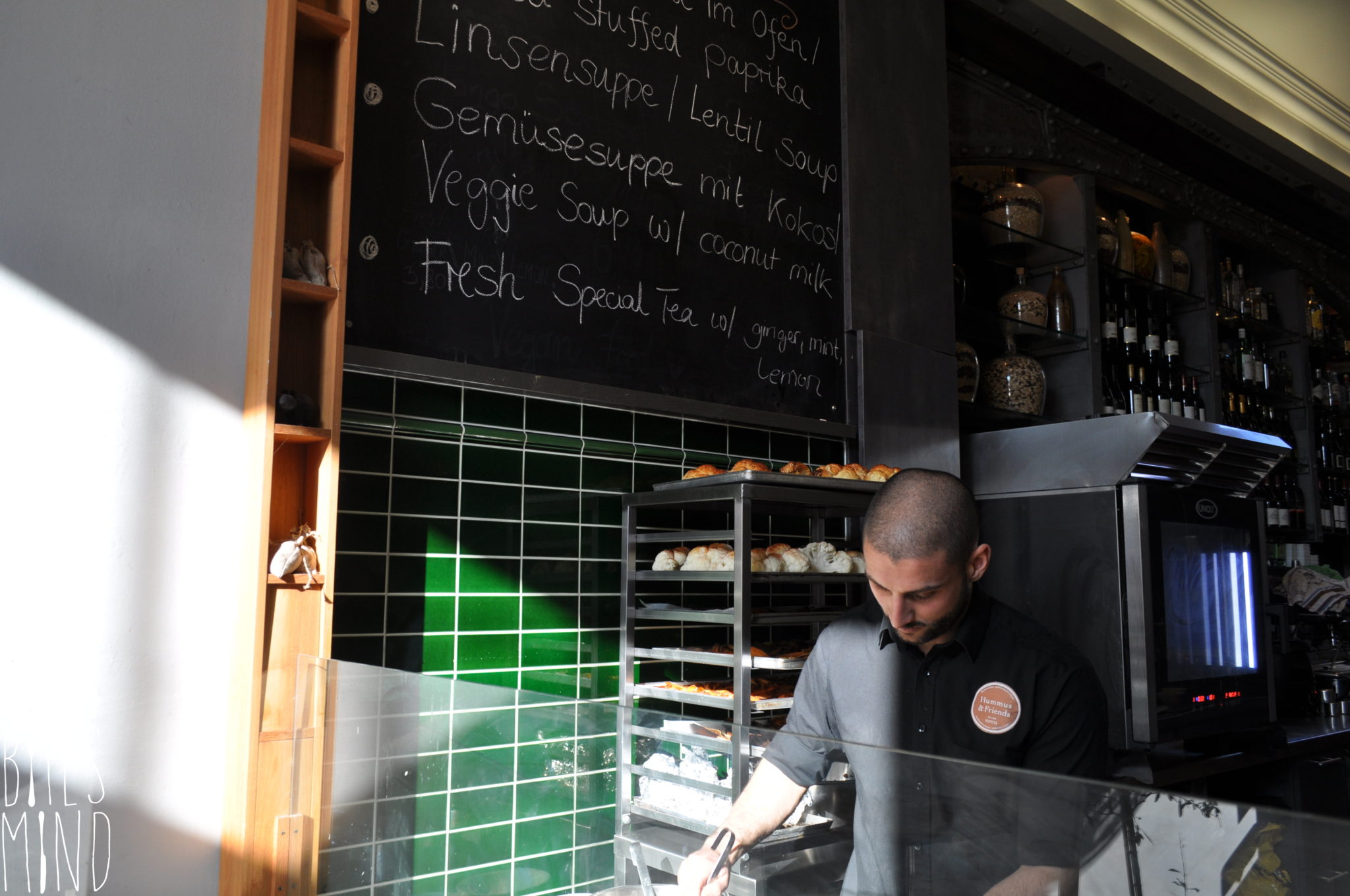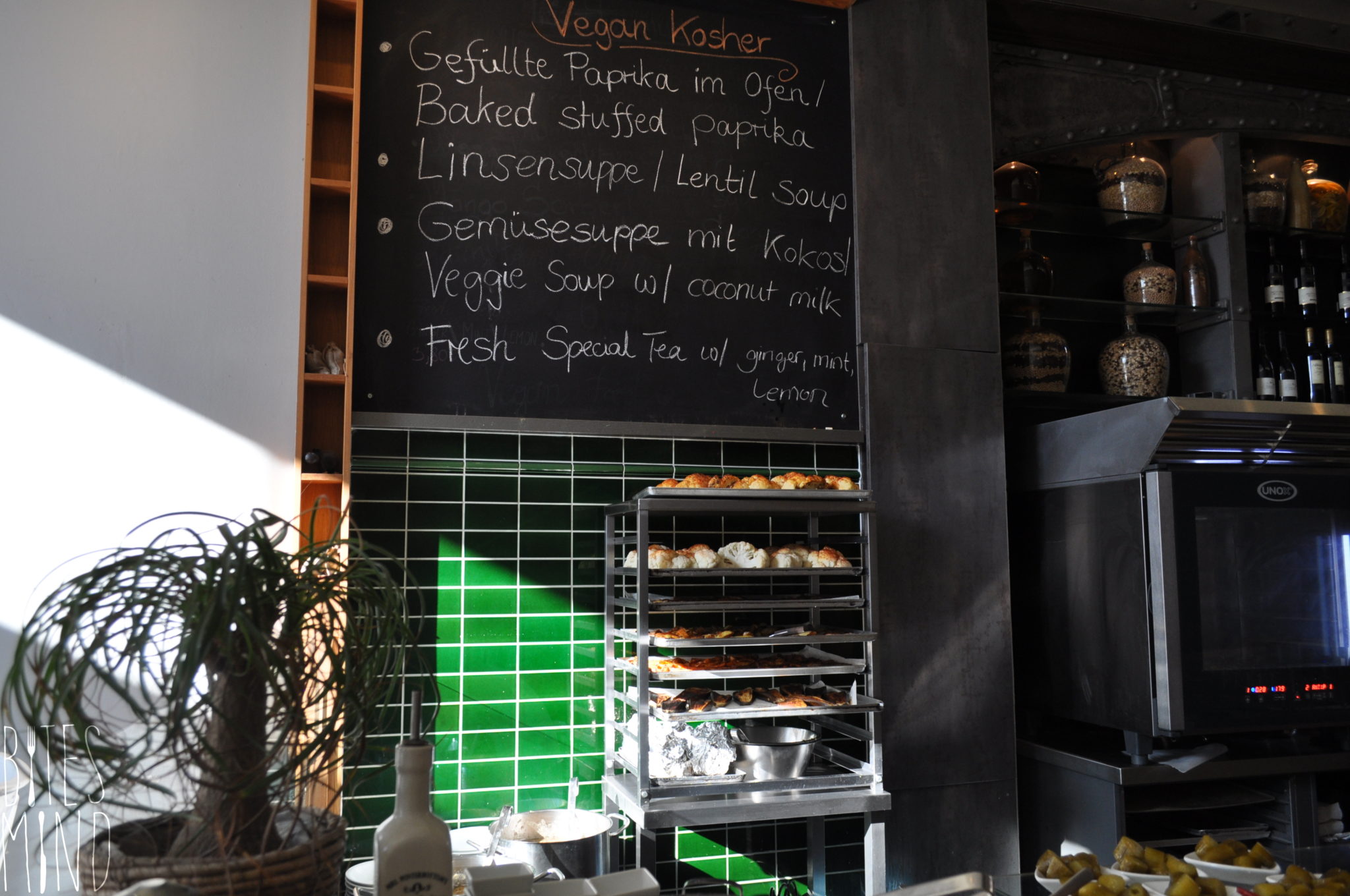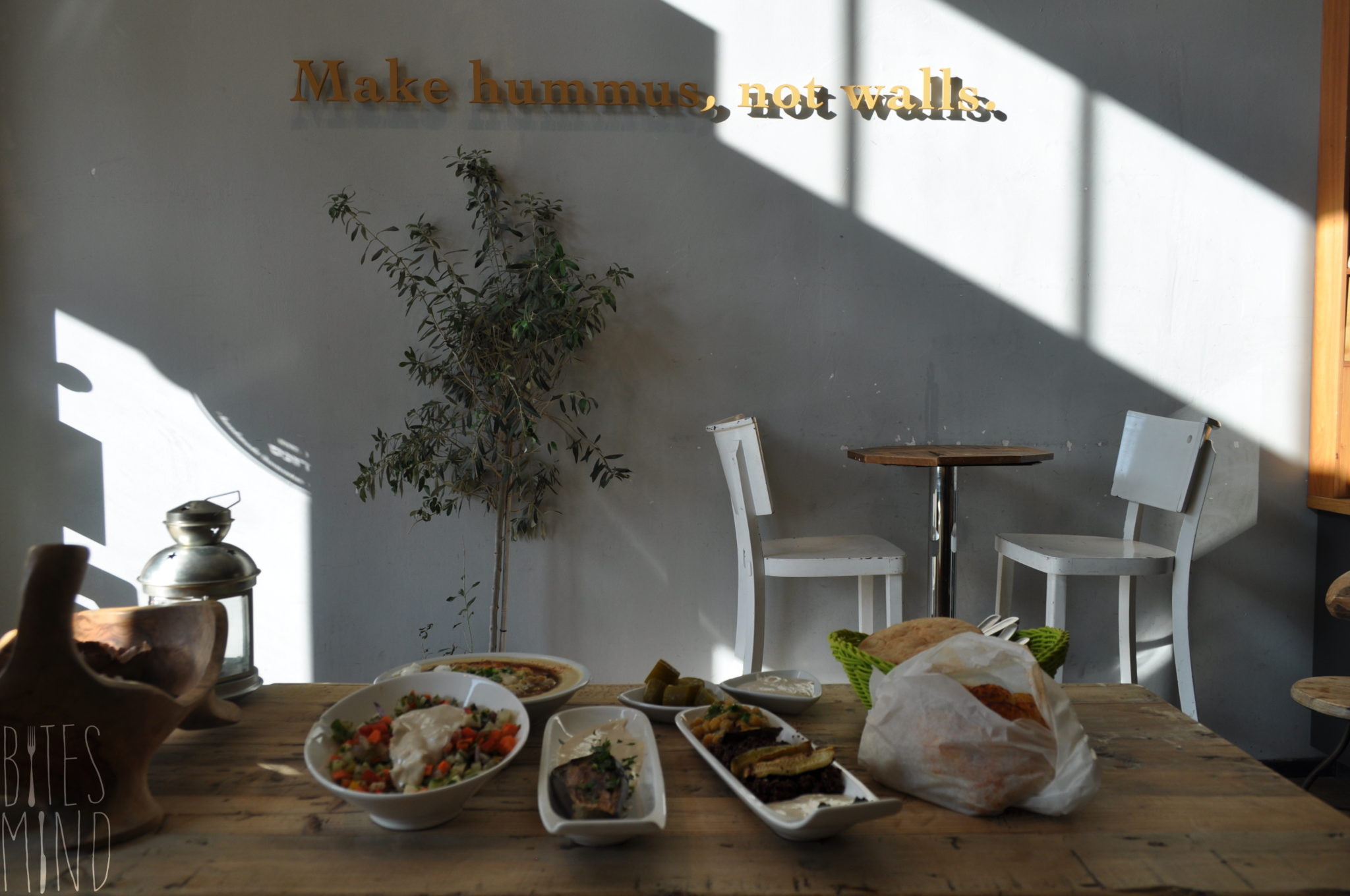 We really had a very pleasant experience at Hummus & Friends . For all these reasons, I highly recommend for you to visit there and enjoy the experience yourself.
You can find Hummus & Friends at the address:
BAHADUNES – Hummus & Friends – Restaurant & Bar Berlin
Address: Oranienburger Straße 27, 10117 Berlin, Germany
Phone: 0049.(0).30.55471454
Website : www.hummus-and-friends.com      Email: info@hummus-and-friends.de