No matter what our cultural background is, love for food is something we all have in common with one another. Food always connects people and makes us happy!
Speaking about that, we found Kanaan, an Israeli-Palestinian and vegan-vegetarian restaurant in Berlin. Believe me, you won't come across this kind of restaurant every day.
Kanaan is located in Prenzlauer Berg neighborhood in Berlin. It was opened back in 2015 by Oz Ben David, an Israeli entrepreneur and marketing businessman who teamed up with Jalil Dabit, a Palestinian Arab chef. Jalil runs a famous family Hummus restaurant in Ramla that has been there for a couple of decades. So in Berlin, these two young ambitious people work together to bring their cuisine to the world at large, and bring people together by food.
Kanaan means the land of milk and honey, the promised land where there never is war. That certainly is the case in Kanaan restaurant. Everyone works with each other in perfect harmony. No politics, no hate, just kindness and love and of course a lot of delicious food from the holy land.
We went to Kanaan on a beautiful sunny day in February. It was easy to find the restaurant, you will see for yourself when you will come across a sign that says "best Hummus in town."
The restaurant is very inviting. It's a small cozy restaurant with a few tables inside. The open kitchen in the center of the restaurant allows you to enjoy watching the chefs prepare your food. Kanaan has both a terrace and a beautiful beer garden where they make Falafel on weekends.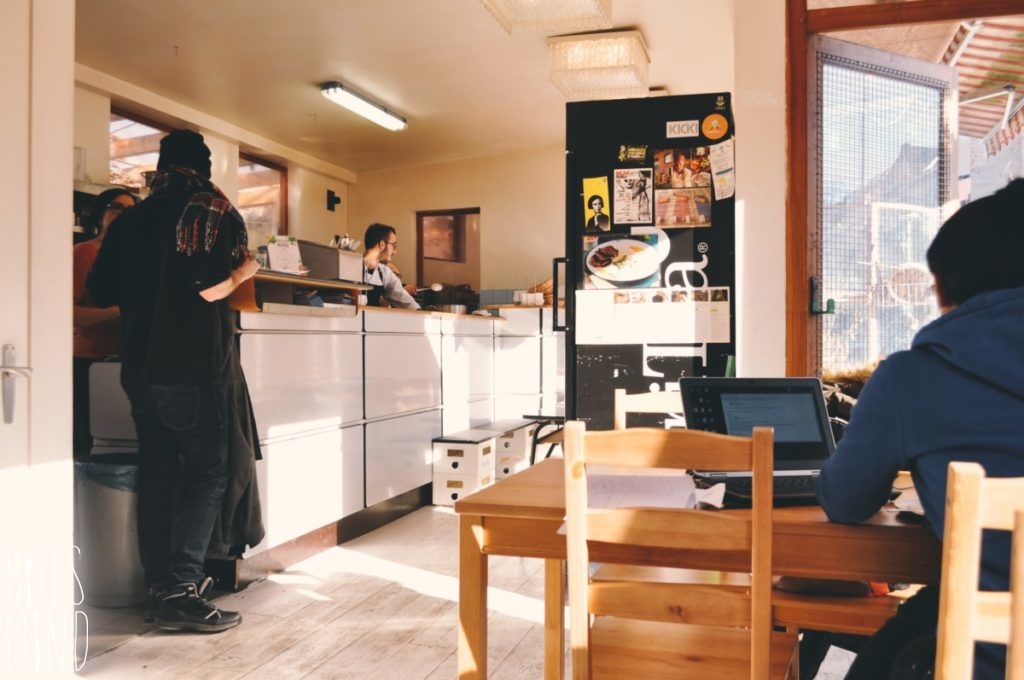 Oz, the owner, welcomed us warmly and we started to chat about Kanaan and the idea behind this restaurant. Oz has a vision to bring all people together and connect them through food by creating his own Kanaan, a place where everybody lives together in peace and harmony.
It was really hard to decide what to order from the menu, as everything seemed to be really amazing, so we left it to Oz to decide.
We had Kanaan's Hummus specialty, which is a dish that consists of creamy buttery Hummus, mashed fava beans, hard-boiled egg sprinkled with Za'atar, parsley, and chopped red pepper on top. This of course was served with freshly baked pita bread. You really must get a bit of everything on the plate and enjoy it with the pita bread.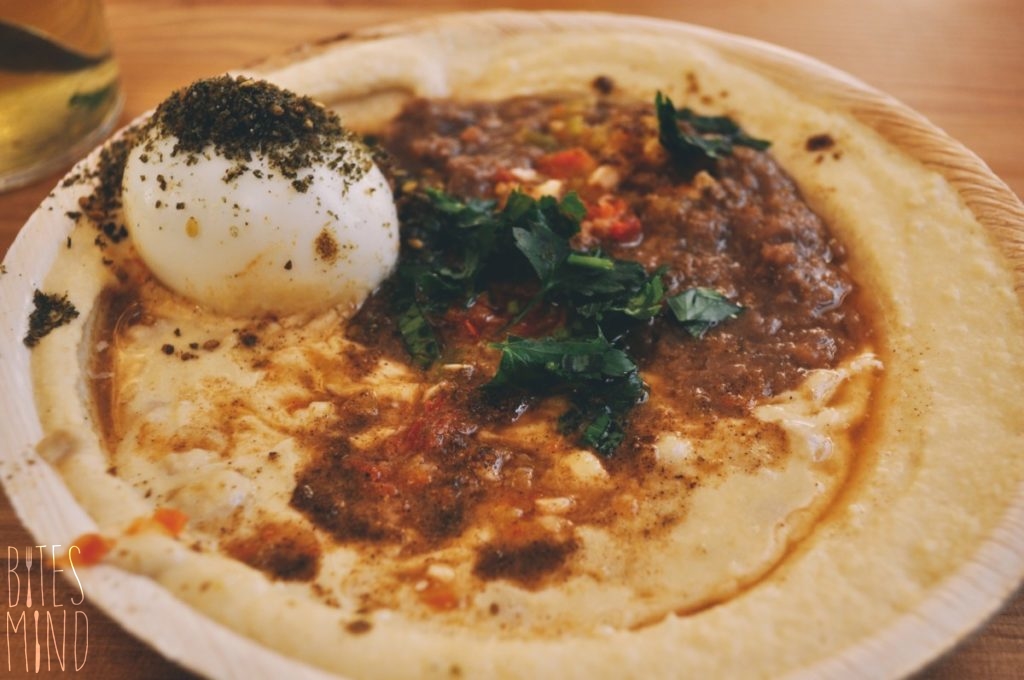 We also tasted Malawach, which is a Yemenite-style bread made in thin layers of puff pastry. Malawach is topped with roasted eggplants, pickled beetroots, feta cheese and creamy tahini sauce, with just a sprinkle of Za'atar. I loved this dish so much, that I can still recall the taste of this crispy puff pastry with all these heavenly toppings in one bite.
Beside these two dishes we had the Moussaka, oven baked roasted eggplants and feta cheese smothered in tomato sauce.
Kanaan really provides you with a culinary experience like no other. It's extremely delicious and high quality vegetarian cuisine, the vegan dishes are made from organic ingredients. Simply put, Kanaan is heaven for vegans and vegetarians.
It was really comforting to meet people like Oz and Jalil, people who love what they do with such great passion, that you can't help but be mesmerized by each story they tell in every dish they serve. They create a magical experience through their food. We really enjoyed visiting Kanaan, and can't wait for the next time when we're in town.
If you find yourself in Berlin, make sure to visit Kanaan and be touched by their unique, warm and memorable hospitality.
Kanaan
Kopenhagener Straße 17
10437 Berlin Prenzlauer Berg
+49 176 22586673
Email: kanaanberlin@gmail.com
Website: www.kanaan-berlin.de/en
Facebook page: Kanaan