Shakshuka, vegetarian, very healthy and totally addicting!
Shakshuka is a North African dish that is made throughout the Middle East; it is especially popular in Palestine, Jordan, where it is often eaten for breakfast.
This vegetarian one-skillet egg dish is such an easy dish for breakfast brunch or even dinner. It's very healthy, and totally addicting.
With a simple dish such as shakshuka, the possibilities are endless. I prefer mine simple, a traditional shakshuka recipe is basically eggs poached in a spiced tomato sauce with red or green peppers, onions and garlic. For variety, different ingredients can be added to the tomato base—  green chilies, parsley, red pepper flakes, or anything else that sounds tasty to you. Use your imagination!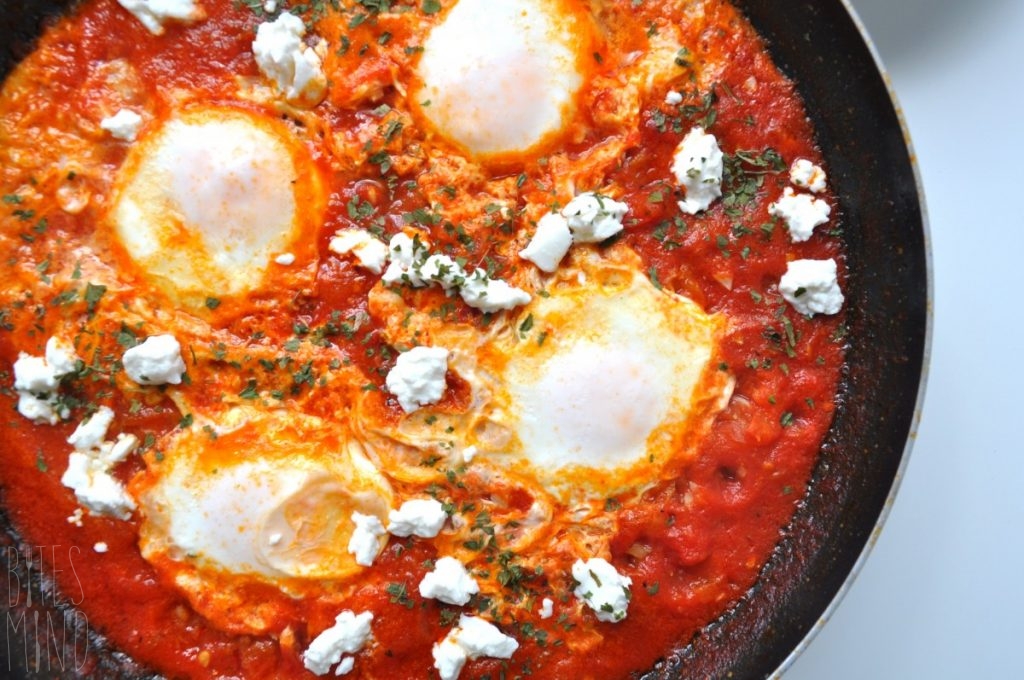 Shakshuka is very simple to make, made of every-day ingredients. All you need is a skillet and veggies! First you start sauteing onions, garlic and bell peppers. Then you add Fresh chopped tomatoes (you can use canned  tomatoes which is just fine. The tomato mixture simmers until it is reduced to a thicker sauce.
At the end , eggs are cracked and added directly over the tomato sauce, then cooked over low heat. Viola!
4 eggs

2 Tbsp of extra virgin olive oil

4 large, ripe tomatoes, chopped (800g); canned diced tomatoes are also fine

2 garlic cloves,chopped

1 large onion, chopped

2 green or red peppers, chopped

1 teaspoon cumin

1/4 teaspoon red pepper flakes ( to taste)

Salt and pepper to taste

feta cheese, parsley,

(optional, for garnish)
In a large skillet,

 

eat the oil over a medium heat and add the onion. Cook until golden, then add the peppers. Fry until soft, then add the garlic, cumin, red chili flakes and other spices you are using and cook for another couple of minutes.

Add in the chopped tomatoes .

Reduce heat to medium, and simmer, stirring occasionally, until thickened slightly, about 20 minutes. Season sauce with salt if needed.

Make a hole in the sauce for every egg, Crack eggs over sauce, season eggs with salt

, reduce heat to low as possible, cover and cook for about 10 minutes.

Sprinkle shakshuka with feta and parsley and serve with pita bread.