Ka'ak
Ka'ak is the Arabic word for "cake", and it can refer to a popular kind of bread commonly consumed throughout the Middle East (Palestine, Lebanon, Syria, Jordan). It's made in a handbag or a large ring shape, generously covered with sesame seeds. The bread simply looks irresistible and is a must when you have something to celebrate, because it looks so good on the table.
Ka'ak Al Quds
If you pass through any of the old streets of Jerusalem in the morning you will see many vendors selling Ka'ak Al Quds (Jerusalem bread) with za'atar, falafel, cheese and oven-baked eggs. It's hard not to stop by one of these vendors to buy one to eat on your way to work or school.
Palestinians from all around Palestine consider the Ka'ak of Jerusalem to be a unique specialty, and those from the city or visiting there often, buy several loaves to give to others outside the city as a gift. It's something you never forget to bring from Jerusalem!
I remember my mother bringing us Ka'ak from Jerusalem whenever she goes there, it's a tradition I will always have fond memories of!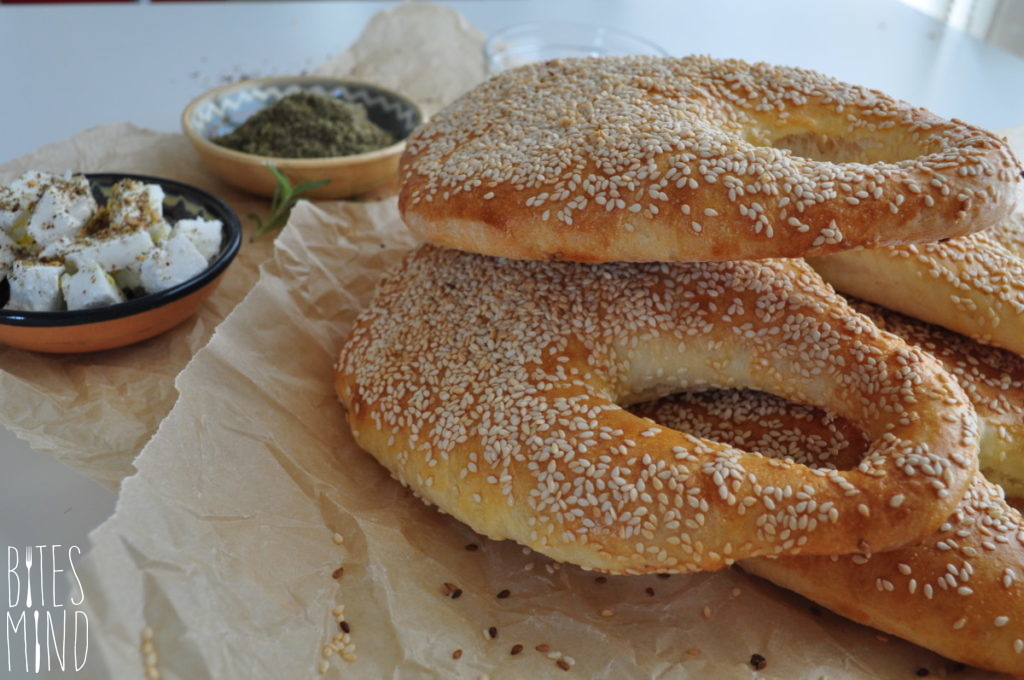 Ingredients:
Makes 4-6 breads
500g plain flour
250ml water
7g instant yeast
75ml milk
1 teaspoon salt
75ml Greek yogurt
1 tablepoon sugar
1 tablespoon olive oil
100g sesame seeds
1 egg, for brushing
Directions:
Warm the water in a saucepan over a gentle heat- it should be slightly warmer than the body temperature. Add the milk and warm it too.
Place the warm water and milk in a bowl and stir through the yogurt. Add the yeast and stir. Add all the remaining ingredients, except the egg and sesame seeds, and begin to combine it together into a dough. Knead for about 5-8 minutes.
When the dough feels ready, it should have a slight bounce when you touch it. Turn it into a well-oiled bowl and cover it. Leave it to rise for about 2 hours in a warm place.
Knock back the air from the risen dough, then cut it into 4-6 equal-sized pieces. Roll each piece into a ball, place them on lightly oiled baking trays and leave to rise for about 30 minutes.
Preheat the oven on its highest temperature- about 220°C degrees.
Lightly flour the worktop. Roll each piece of dough into a teardrop shape that is not too thin.
Cut out a circular shape from the narrower top end of each bread (You can use a small upturned cup)
Brush egg wash over the surface.
Sprinkle all over with sesame seeds.
Lay the breads on a baking try and bake for 10-15 minutes or until golden brown and puffed up.
Serve warm with Za'atar, olive oil, labneh, feta cheese alongside with a pot of mint tea.
Labneh or yogurt cheese is a thick spread made by straining the liquid out of Greek yogurt until it takes on a consistency similar to a soft cheese spread.
It is a staple in the Middle East, where it is widely made. It is a very popular breakfast spread and main ingredient for a delicious sandwich with olives, fresh mint leaves, za'atar and olive oil.
Za'atar is a mix of traditionally dried ground herbs, made by drying the wild herbs (thyme) under the sun, then mixed all together with salt, sumac and toasted sesame seeds.
Ka'ak Al-Quds is commonly eaten with za'atar and olive oil, you dip a piece of Ka'ak bread in olive oil, and then in the Za'atar.